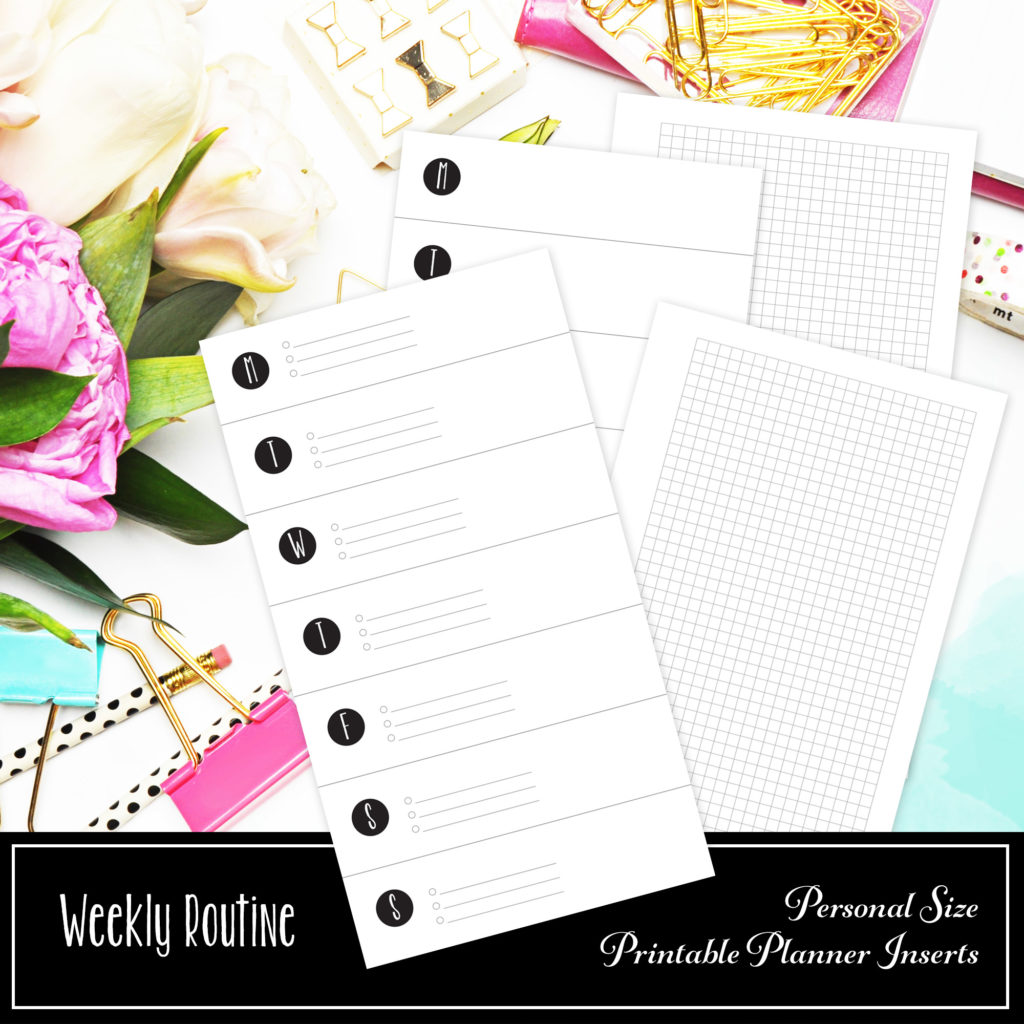 Essentially, I am running three businesses even though they are all graphic design based. Weekly, I find myself trying to keep track of what I needed to be doing for which business on what day, so I made myself an insert! Isn't that the answer for every little thing? If you're running a business, a blog, a YouTube channel, a household, all of the above, or simply have plenty of things you need to keep up with weekly, this insert is one way to keep yourself on track.
Yes, this Weekly Routine Insert could also be used for a horizontal week on one page insert or week on two pages insert (if you include the small grid) for weekly planning, so if that's what tickles your fancy go for it! I designed these initially for my personal use, so that is why they are a little more "decorative" than my usual minimal design. Other than a bit of washi tape to help reinforce the wholes, decorating the page was not on my radar. Once filled in, this insert acts as a guide for perpetual tasks… a key if you will.
Let me tell you, I LOVE options! Give me choices and I'm all in, so more and more, my designs will include VARIETY! (Is that the spice of life?) So in keeping with the whole options thing, this download includes 2 variations. One set includes a 3 line checklist on each day that you can fill in any way you need. For example, if you have a YouTube channel, you could use the checklist to break down your tasks to Record, Edit, Upload. The other set is blank, so you can do whatever you like… draw pictures, create a flowchart, make a list…
The finished size of this insert is 3.75″ x 6.75″, the standard size for personal size planner inserts.  The inserts are setup on a U.S. Letter page (8.5″ x 11″). Each variation has two pages in the PDF file to make duplex printing a little easier. Cut marks are noted, so if you use a craft trimmer/cutter, or and xacto knife and a straight edge/ruler, cutting your inserts, to the right size, should be a breeze.
Oh yeah, one I have my schedule flowing, I may laminate it! Bet you didn't think of that, did you?
Comments
comments