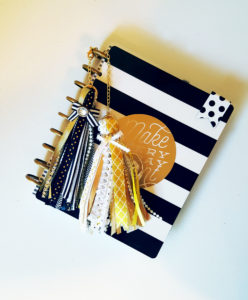 My Happy Planner and I just made it back home from the Michael's Happy Planner class, meetup, get-together, event… not sure what it is called exactly. My Rose Gold Webster's Pages Traveler's Notebook chock full of May Designs notebooks was along for kicks. Anyway, after a shaky start with 9, ummm, class members, a spontaneous shopping field trip around the store was suggested. Some time was spent admiring the Mambi Happy Planner display, then we spread out in search of satisfying deals and to use the generous coupons that we were provided for attending the event. When we returned to the classroom, we settled in, and everyone loosened up a bit. A little retail therapy works wonders for crafty planner types! Because of our common love of the Happy Planner, the chill eased and we actually talked a bit and warmed up to each other.
Our instructor, for lack of a better description, handed out the supplied for a DIY DMC Floss Planner Tassel. With an 'O' ring and lobster clasps we fashioned ourselves some tiny little planner accessories. This little bit of craftiness led to one of the attendees pulling out some of her beautifully crafted goods, and my love of gynormous tassels was born!
I've been toying around with making a big fat juicy tassel, but I have been too lazy to dig out the ribbon. Besides, I don't have all the different textures I would want. But OH MY ERICA's tassels are super fabulous! Look out for her Etsy shop to open soon.
So not only did I meet some crafty planner peeps like me, I connected on a crazy-planner-lady level with another die-hard planner, so all-in-all, it was worth it to brave the hot Florida heat in the middle of the day, to make my way to my local Michael's store for an event that I wasn't sure I wanted to attend. Yes, I had no idea what to expect, but I would do it again. Now I know to bring ALL of my planner madness along for the ride.
#livewellandplan
Comments
comments